History of Solar Energy - Photovoltaics
Solar technology was invented in the 1950s and was first used in satellites as battery-support. The prototype was the American Vanguard satellite of 1958.
Source: Nasa USA
The costs of solar modules were too high for terrestrial use until the early 1970s when prices declined. Photovoltaics then became popular for off-grid installations.
The 1973 oil embargo and the 1979 energy crisis caused a reorganization of energy policies around the world and brought attention to developing solar technologies and renewable energies. Further technological developments and increasing production brought the price of PV further down. For the first time in the history of solar energy, residential solar and commercial solar installations became affordable.
History of Solar Energy – Solar Power Plants
Commercial concentrated solar power plants were first installed in the U.S. in the 1980s and early 1990s. During this time, one of the biggest Solar Energy Generating Systems (SEGS) in the history of solar energy was established in the Mojave Desert of California.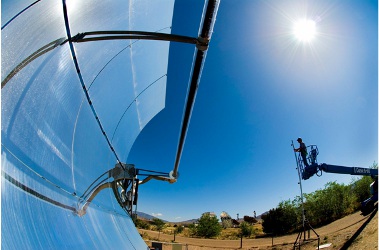 Source: Sandia Corporation
Since the erection of SEGS, few solar installations were developed up until 2010. At that time, another large plant was constructed in California and a significant number of announcements were made for new plants projected to be completed between 2011 and 2015.
History of Solar Energy – Solar Hot Water Systems
Solar hot water systems were common in Southern California in the early 1900s before the introduction of natural gas caused a decrease in the use of solar energy. They became more popular again in the 1970s until the expiration of federal solar tax credits and the crash of energy prices led to an industry slow-down. Since 2006, however, with the resurrection of federal tax credits and other solar incentives, the solar energy sector is again on the rise.
There is an interesting history of solar energy in the U.S., and while solar energy only supplied 1% of the U.S. renewable energy supply in 2010, there is great potential for solar power as we enter a new era.