There are various types and models of solar shingles with differences in material, look, efficiency, and mounting requirements. Many solar roof shingles are solid photovoltaic panels which resemble a strip of conventional shingles when mounted on the roof. Smaller, semi-rigid designs represent individual solar shingles, each consisting of several silicon solar cells. They do not necessarily have to be arranged in a row and can be mounted in various orders.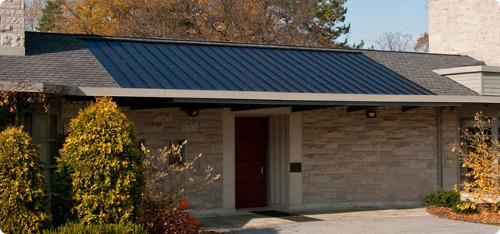 Solar Shingles from UNI-SOLAR®
New Technologies - New Solutions
Newer technologies like thin film solar cells are very well suited for solar roof shingles. Thin film solar is very flexible and light and thin film solar shingles match conventional ones both in size and flexibility.
Installation of most solar shingles is quite easy as they can be applied directly onto roofing felt and are intermixed with regular shingles. The most common size of solar shingles is 12 by 86 inches (300 by 2,200 mm) with an exposed surface of 5 by 86 inches (130 by 2,200 mm).
Advantages and Disadvantages of Solar Roof Shingles
The biggest advantage of solar roof shingles is their aesthetic value. Solar shingles are usually of a dark blue or purple color and therefore hardly noticed in between similar colored asphalt shingles.
Solar roof shingles are suited for home-owners who don´t want to have large solar panels on their roofs. As they are not as effective as regular panels, solar shingles have to be installed on a bigger area to get the same amount of electricity. Houses with small roofs may not have enough space to install a sufficient amount of solar shingles. But efficiency rates of solar shingles are increasing and installation costs are often lower than for regular solar panels.